Our Newest Addition!
Many of our designs are inspired by something personal in our lives here at Simply Custom Life. For those that know us, we are a dog friendly workplace and most days there will be several running around. They keep the stress levels down and the dogs love the interaction.
We were happy to add a new addition to our family with a Jack Russell puppy who is still nameless! She is our 4th Jack that we have owned. We love the breed!
Below are just some of the reasons why we own Jacks:
Energetic and Playful: Jack Russells are known for their boundless energy and playfulness. They are always up for a game of fetch or a romp in the yard, making them excellent playmates for active individuals or families.
Intelligent and Trainable: Jack Russells are intelligent dogs that excel in learning new tricks and commands. Their trainability makes them popular choices for dog sports and activities like agility and obedience.
Fearless and Confident: Despite their small size, Jack Russells are fearless and confident dogs. They have a brave and adventurous nature, which can be quite entertaining to witness.
Affectionate and Loyal: Jack Russells are known for their deep affection towards their owners. They form strong bonds with their human family members and are fiercely loyal, making them devoted and loving companions.
Alert and Protective: Jack Russells are naturally alert and make excellent watchdogs. They have a keen sense of awareness and will alert their owners if they sense any potential threats.
Low Maintenance Grooming: With their short and smooth coat, Jack Russells require minimal grooming, making them easier to care for compared to some other breeds.
Unique Personalities: Each Jack Russell Terrier has its own distinct personality, and they often have quirky and comical traits that bring joy and laughter to their owners.
Versatility: Jack Russells are versatile dogs that can adapt to various living environments, including apartments and houses, as long as they receive enough mental and physical stimulation.
Longevity: Jack Russell Terriers generally have a longer lifespan compared to some larger dog breeds, which means they can be lifelong companions for their owners.
Playful Companionship: Jack Russells have an ability to bring a lot of fun and entertainment to their owners' lives. Their playful and affectionate nature makes them cherished members of the family.
So, in honor of our newest addition, we have added the Jack Russell to our watercolor dogs series! Available in both an 11 oz and a 15 oz mug. Also available in both smooth coat and rough coat.
But this post wouldn't be complete without the inspiration behind it!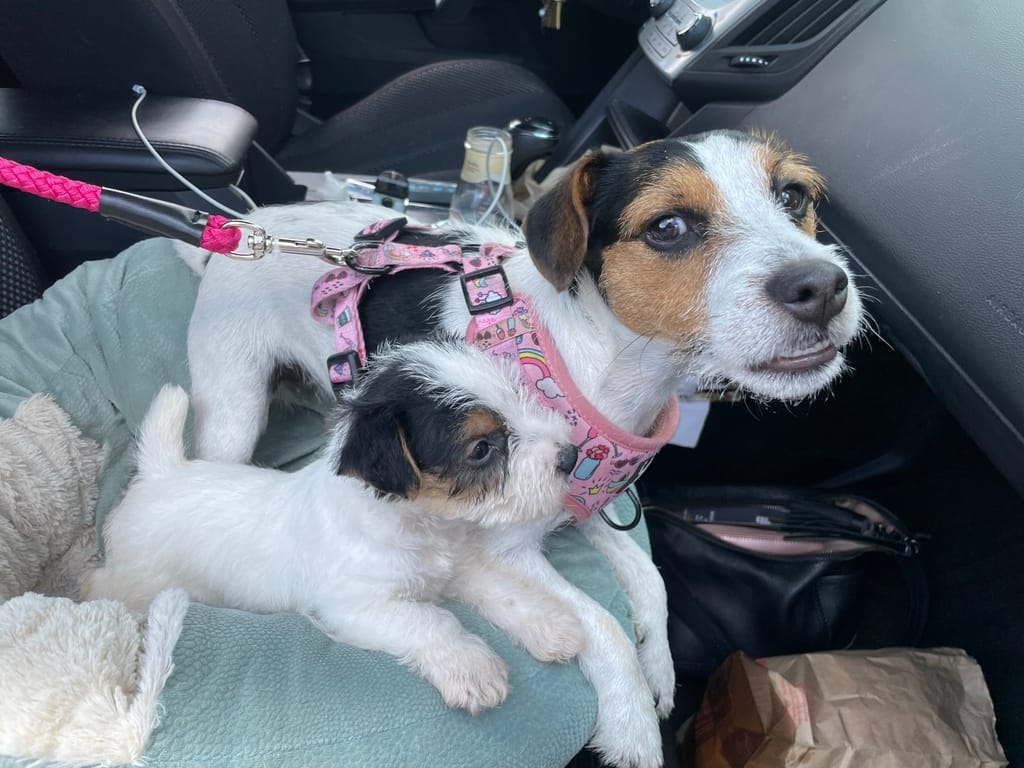 Zoey with our newest addition who is also her half sister!